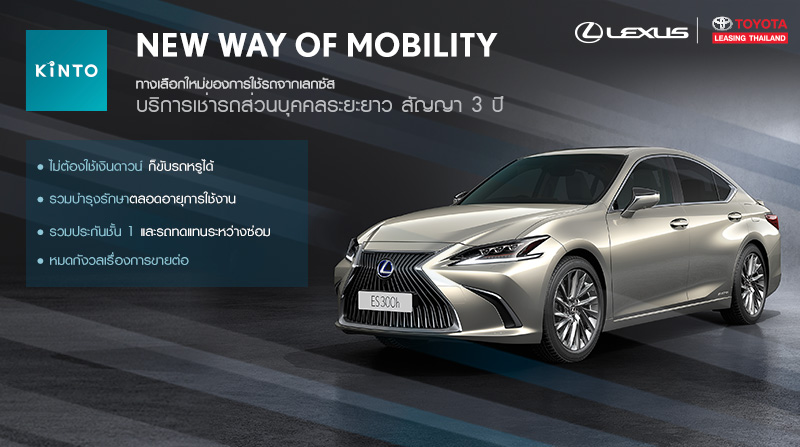 30 Apr 2020
Thailand
KINTO ONE LEXUS
New Way of Mobility, the new way of owning a Lexus
Having an amazing car is now easier, more convenient, worry-free and comes with greater value for money with the new service from Lexus. KINTO ONE LEXUS offers a three-year car rental program for private customers through an online platform with three outstanding features;
1. Full service - Facilitating every need of every driver with a service that covers everything, under Lexus' renowned standard.
·      Maintenance service
·      First-class insurance serviced by Lexus' authorized service centers
·      Annual tax and Compulsory Motor Insurance renewal service
·      Replacement vehicle during repair*
2. One Price - Forget all the headaches from any possible future cost, everything is covered until contract ends.
·      Pay one fixed price throughout the contract period.
·      Choose a package that matches your lifestyle.
3. Online Service - Amazingly easy application at your best convenience through www.kinto-th.com
·      Credit card payment accepted.
Rental packages
·      Light package: maximum mileage per year 15,000 km.
·      Medium package: maximum mileage per year 25,000 km.
·      Ultimate package: maximum mileage per year 40,000 km.
Remarks
·      *The replacement vehicle during repair is Camry 2.0G or equivalent.
·      Early contract cancellation without valid reason will charge renter 40% of the remaining rent.
·      Any exceeding mileage from the package will be charged 3 Baht per km.
·      Application is open from April 20th onward.
·      For more information please contact KINTO ONE Call Center 02-386-3888 or apply at https://www.kinto-th.com