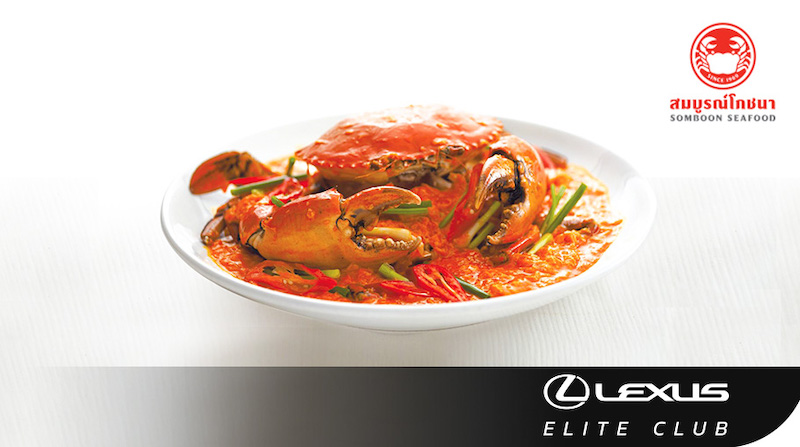 01 Nov 2019
Thailand
Lexus Elite Club: Somboon Seafood
Taste the signature dish at Somboon Seafood. Lexus Elite Club member receives one complimentary Fried Curry Crab (size M) on the application.
Period: 1 November – 31 December 2019
How to Redeem
· Get code on this application and present your code to shop staff for verification.
(Redemption Code is valid within 23:59 hours on the day you press "Redeem")
· Please contact shop staff for reservation and proceed with redemption before using the privilege.
Conditions
· This privilege included VAT 7%.
· Available for eat-in only.
· Privilege cannot be exchanged for cash or voucher.
· Luxury Privilege is available for members with the first 4-year of car ownership from delivery date.
· Members with the first 4-year of car ownership are able to redeem Luxury Privilege 4 privileges / Car / membership year.
· Lexus Elite Club membership status will be available for the first 4-year Lexus car ownership. Members have to reactivate membership every year afterwards to receive Lifestyle Privilege.
· The company reserves the right to change the terms & conditions without prior notice.
· Images used for advertising purposes only.
· Number of monthly privilege is limited.
Branches
1. Bantadthong
Tel: 02-216-4203-5
2. Surawong
Tel: 02-233-3104, 02-234-4499
3. Ratchada
Tel: 02-692-6850-2
4. Udom Suk
Tel: 02-746-6850-2
5. Samyan
Tel: 02-160-5100
6. Central Embassy
Tel: 02-160-5965-6
7. Siam Square One
Tel: 02-115-1401-2
8. CentralWorld
Tel: 02-090-6602