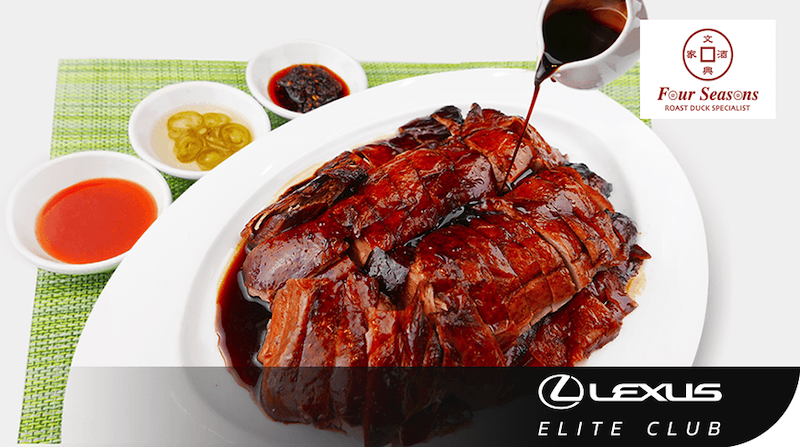 31 Jul 2019
Thailand
Lexus Elite: Four Seasons
Taste authentic flavor of Four Seasons roast duck in special set menu from Lexus Elite Club. LEXUS Elite Club member receives one complimentary set menu on application from the 1st of August to the 30th of September 2019
Set Menu includes of:
1. Four Seasons Roasted Duck (1 portion)
2. Mushroom and Chinese Cabbage in Oyster Sauce
3. Egg Yolk Fried Rice
4. Beverage (A glass of refill)
How to Redeem
· Get code on this application and present your code to restaurant staff for verification.
(Redemption Code is valid within 23:59 hours on the day you press "Redeem")
· Please contact restaurant staff for reservation and proceed with redemption before using the privilege.
Conditions
· Privilege cannot be exchanged for cash or voucher.
· Luxury Privilege is available for members with the first 4-year of car ownership from delivery date.
· Members with the first 4-year of car ownership are able to redeem Luxury Privilege 4 privileges / Car / membership year
· Lexus Elite Club membership status will be available for the first 4-year Lexus car ownership. Members have to reactivate membership every year afterwards to receive Lifestyle Privilege.
· The company reserves the right to change the terms & conditions without prior notice.
· Images used for advertising purposes only.
· Number of monthly privilege is limited.
Branches
1. Siam Paragon, G Floor
Tel: 02-610-9578


2. The EmQuartier, 7th Floor
Tel: 02-003-6066


3. Mega Bangna, 1st Floor
Tel: 02-105-1616


4. CentralFestival EastVille, 1st Floor